Diseases


GDGDB is a database of glycan-related diseases and their responsible genes. We have compiled a database of diseases caused by mutations in glycan-related genes (e.g. glycosyltransferase, glycosidase, sugar-nucleotide synthase). Currently you can find around 80 diseases with the responsible gene and pathosis in this database. The responsible genes are linked with some JCGGDB affiliated databases such as GGDB (GlycoGene DataBase) and Glycosidase database (substrate specificity of glycosidase).





PACDB provides the information on pathogens (e.g. bacteria, fungus, toxin and virus) adhering to carbohydrates expressed on the cell surface of host animals or plants. Many pathogens have been reported to recognize the sugar moieties of host cells as a first step of bacterial adhesion and infection. We have also collected the data of diseases caused by bacterial infections to host tissues.This database will give you easy access to the data on each pathogen and its receptor glycans or proteins.We hope that this database could be of help in your study and serve as a bridge for two areas of study, glycoscience and infectious diseases.



Gene / Protein / Glycoprotein


GlycoGene is a database which includes genes associated with glycan synthesis such as glycosyltransferase, sugar nucleotide synthases, sugar-nucleotide transporters, and sulfotransferases.




GlycoProtDB is a glycoprotein database providing information of Asn (N)-glycosylated proteins and their glycosylated site(s), which were constructed by employing a bottom-up strategy using actual glycopeptide sequences identified by LC/MS-based glycoproteomic technologies. Current contents are glycoproteins identified from model organisms C.elegans , mouse (C57BL/6, male) and human. The database is searchable using gene ID, gene name, and its description (protein name) as query. Each data sheet of glycoproteins is based on a single amino acid sequence in Wormpep database for C.elegans and UniProt database for mouse. The sheet presents actually detected N-glycosylation site(s) which are displayed each capturing methods of glycopeptide subset, e.g., lectins Concanavalin A, wheat germ agglutinin (WGA), or HILIC (hydrophilic interaction chromatography), as well as potential N-glycosylation sites (NX[STC], X≠P). Protein sequences, which have common glycopeptide sequence(s), are linked each other.




Lectin Frontier DataBase (LfDB) provides quantitative interaction data in terms of the affinity constants (Ka) of a series of lectins toward a panel of pyridylaminated (PA) glycans obtained by an automated frontal affinity chromatography with fluorescence detection (FAC-FD) system. Since the data are accurate and reliable, providing the absolute values of sugar-protein interactions, LfDB would be a valuable resource in the studies of glycan-related biology. LfDB consists of the Lectin Information Page to provide the basic information on lectins and the Interaction Page to provide the interaction data obtained by the FAC-FD system. Interaction data are shown in a bar graph format by either an actual measurement (V-V0) or an association constant (Ka). LfDB also provides a "1-parameter" function that helps to find a key structural element among the related glycan structures.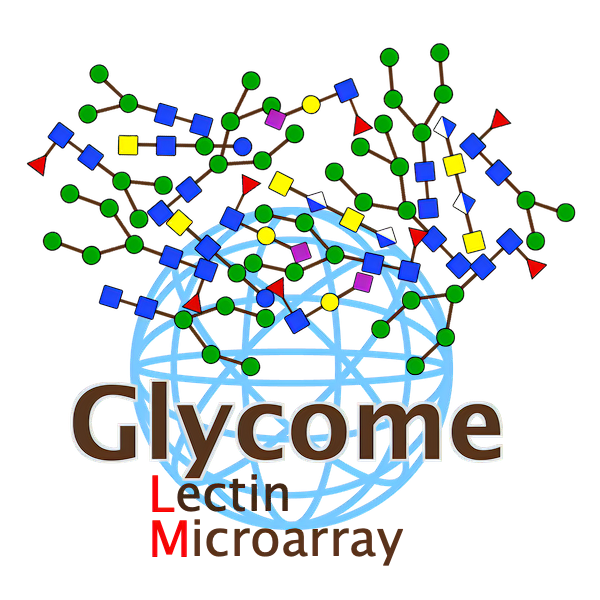 LM-GlycomeAtlas v2.0 is a web tool visualizing the data from Lectin Microarray analyses using 45 lectins by the Kuno Laboratory at AIST.
This work was supported by a project for utilizing glycans in the development of innovative drug discovery technologies in the project focused on developing key technology for discovering and manufacturing drugs for next-generation treatment and diagnosis from the Japan Agency for Medical Research and Development (AMED).



Ontologies / RDFs
GlycanRDF

GGDonto
GDGDB provides information about the diseases of glycan synthesis and degradation that are caused by mutations in glycan-related genes. Genetic Glyco-Diseases Ontology (GGDonto): Ontology of genetic diseases known to be related to glycan metabolism.


PAConto(RDF)
Pathogen Adherence to Carbohydrate Ontology (PAConto): RDF representation of the data from the Pathogen Adherence to Carbohydrate Database (PACDB) and Ontology of infectious diseases known to be related to glycan binding.


Protocols

(JCGGDB)
GlycoPOD (GlycoScience Protocol Online Database) project started almost one and a half years ago (May, 2009) as a part of the program of the Japan Consortium for Glycobiology and Glycotechnology Data Base (JCGGDB), aiming to fill the gaps between the beginners and experts by delivering the accumulated knowledge and skills of the experts to the beginners through internet communication under the catch-phrase of "Follow the flow chart and you will get the goal directly". Now, more than 100 experts (JCGG members) have been involved in the GlycoPOD activity so far. We fully acknowledge their great contribution to GlycoPOD.